ATTENTION- Customers of Wabasha Rubbish Removal LLC!
The office is closed due to the CoronaVirus. Payments can be made by mail, dropped in the payment slot on the door, or by ACH. If you pay with Cash, please place it in an envelope with your name and telephone number and we will text you a receipt!
As of April 1st, we are asking everyone to take the following precautions:
All Garbage must be in bagged and tied, and placed within a trash can. Anything left on the ground will not be picked up by hand and WILL be left.
If you've got a lot of access garbage, please call for a dumpster, do NOT set a pile out to be picked up.
If you've been sick or quarantined, please sanitize cans after being brought out to curb for pick up.
Please understand these precautions are to keep our employees safe and to stop community spread. We already have a dirty job and do not know if people are sick, so please, follow the guidelines above when setting your trash out. SANITIZE, wash your hands, and stay safe!
We are all in this together! Thank you!
Thank you, be safe.
2 yard to 20 yard roll off dumpsters
Call Today for Prices and Sizes
Want to enroll in Auto Pay?
Click HERE to learn more!
Dumpster Rentals in Wabasha, MN
Wabasha Rubbish Removal LLC provides garbage services and roll off dumpster rentals to customers throughout Wabasha, MN and Kellogg, WI. We serve residential homeowners, commercial business owners, farmers and more. Our rentals and haulage services are perfect for clean outs, garbage, scrap metal, construction debris and more! Contact us today for pricing.
Garbage Hauling and Roll Off Rental Services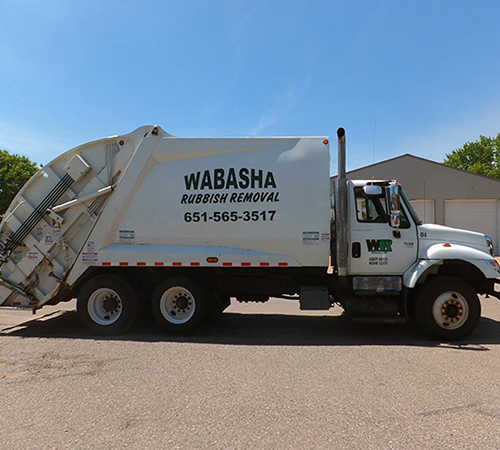 Dealing with an excess of garbage or construction debris can be a huge headache—especially if your regular curbside pickup won't take it! Instead of leaving excess garbage, debris or other rubbish sitting idly on your property or trying to coordinate multiple trips to the landfill, let Wabasha Rubbish Removal LLC help. We offer scheduled curbside pickups for all types of debris, as well as dumpster rental in Wabasha, MN to help you manage your debris and make it easy to remove. With flexible service, honest prices and acute attention to every customer's unique needs, we're the only company you'll ever need to call when it comes to taking out the trash.
We serve all types of customers and take the time to provide tailored services and recommendations. Whether you're a homeowner getting rid of furniture and mattresses or you're a commercial customer doing renovations on your property, we'll be glad to advise the right dumpster rental or debris pickup schedule. Likewise, for our construction customers, we'll be glad to work around your timeline when it comes to ongoing service and roll off dumpsters in Wabasha, MN. We make it easy to work with us by always answering the phone and keeping the lines of communication open. If you need anything, just ask and we'll do our best to meet your needs. Don't let excess rubbish be an eyesore on your property—instead, turn to us to make sure it's handled appropriately.

We're family-owned and locally-operated, offering same-day service and top-notch customer satisfaction. We aim to serve you in whatever capacity you need!

Our business is deeply rooted in the local community. We donate to multiple charities, schools, hospitals and fire departments, and we always strive to give back.

Our staff has nearly 40 years of experience in the debris removal and waste haulage industry. Rely on us for expert recommendations regarding roll off rentals.

Unlike national chains with rigid rental terms, we work around the needs of our customers to make sure they're getting what they need.

We always provide upfront, honest pricing and quotes on our roll off rentals and haulage services.
Get Rid of Your Rubbish!
Garbage and debris can clutter up your property and become an eyesore or a hazard. Don't let it! Give us a call for roll off rentals or debris hauling—same day. We provide upfront pricing. Wabasha Rubbish Removal LLC is now accepting ACH payments, please email or mail in form to start ACH payments.
Proudly offering junk removal service & Roll Off Rentals to the following cities & the areas surrounding them:
Reads Landing, MN
Minneiska, MN